Offering a top class quality range of Soldering Tips, Soldering Iron Tips, Soldering Stations, Soldering Rework Stations, Soldering Machine Parts, Soldering Tools, Glue Dispensers, Desoldering Pump, Desoldering Stations, Desoldering Tools, Soldering Consumables.
About Us
Hygienic atmosphere and clean working environment are the two primary factors that sustain a healthy and prosperous life. PB Statclean Solutions Pvt. Ltd., brings forth an array of highly reliable and qualitative ESD Protection Products, Soldering Iron Tips, Soldering Stations, Soldering Products, and Clean Room Protection Products for various industrial and commercial applications. These products are available in multiple designs and models that are widely demanded globally. We also design and develop our products as per the requirements and specifications given by the clients.

We are an acclaimed Manufacturer, Importer, Trader, and Supplier of the world-class ESD Products and allied items that conform to international quality parameters in respect of giving results and shelf life. Owing to the high quality of our products, we have become an acclaimed name in this competitive industry. We unleash the expertise of our teams: their dedication, experience and professionalism make it possible for the Company to keep a sterling position in the market places it serves.

Why Us?

The theory of 'Survival of the fittest' is applicable in all walks of the life; be it professional, personal or social. The competition is becoming more tougher and the competency of each organization is tested at each stage. Our company has succeeded in acquiring a distinguished position in the industry on the basis of effective management techniques, meticulous planning, well researched marketing strategy, employee welfare program, and effective product promotion activities. Some other competitive advantages of our organization are:

Superior quality products
Cost-effective range

On-time delivery
Prompt & effective after sales service

Tamper proof packaging
Assured customer satisfaction.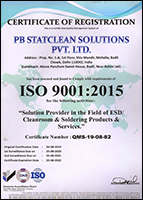 Get in touch with us